The Research Group on Geo-information Computing (GeoComp) has been funded in 2017 by senior researchers Csaba Benedek and Zsolt Jankó, based on experience from various successful projects on spatial data processing completed within the Machine Perception Research Laboratory (MPLab) and its predecessors. The group is strongly cooperating with other units the laboratory under the supervision of MPLab head Prof. Tamás Szirányi.
Context. In the past decade we have witnessed an explosion of new technologies for understanding and using location information in our environment. Airborne, terrestrial and mobile mapping systems equipped with laser scanners, calibrated cameras and navigation sensors are able to provide very accurate and high resolution 3D measurement flows. However, due to qualitative and quantitative factors, conventional Geo-Information Systems (GIS) cannot efficiently utilize yet the available very dense 3D data, and the quickly evolving size of the databases means nowadays a real barrier for applications needing up-do-date semantic evaluation.
Objectives. The GeoComp Group intends to fill the gap between the state-of-the-art of geo-information processing techniques and the application needs in this newly emerging technological field, by utilizing uniquely the newest available data sources obtained from premier partners from the GIS industry, the scientific background in computer science of the team members, and the know-how and equipments of the host institute. Research work is conducted towards establishing the theoretical and algorithmic basis of a new object oriented GIS processing scheme, with a particular focus on large spatial data management, and automated scene understanding for semantic database updating. To achieve these goal, our research focuses on indroducing novel data structures and algorithms, which are able to handle and process 3D spatial and 4D spatio-temporal data with unlimited spatial dimensions and details. On the other hand we aim to propose new scientific methods on 3D object recognition from point clouds fused with auxiliary sensor data, change detection, event interpretation, dynamic scene understanding and visualization. Various key issues constitute the core of the research work, such as storing, indexing and visualizing measurements with very high spatial resolution, managing and refreshing spatial data. 
Main topics: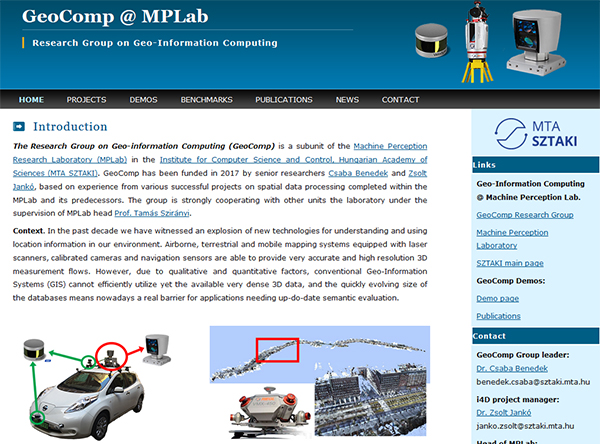 4D sensing, processing and biometrics
LIDAR based point cloud processing
Connected projects:
For more details, please visit the GeoComp group's website.
English